15FT OFF ROAD HYBRID CARAVAN
"Front Bunks Are Awesome!" "Great Space & Nice Layout" "Very Nice to Stay Inside"
Sleeps 4 on Super King & Double & Single Bed
Size: L6.3 x W2.3 x H2.5m
Water: 200L fresh & 90l gREY
300Ah BaTTERy & 300W Solar
Electric Awning & fULL ANNEX
All the little things count
From the chassis to door handles, that's  where engineering meets day-to-day life experience. It works and works well anywhere, beach, mountain, bushland, forest, dessert, middle of nowhere to caravan parks, from sunrise to sunrise, every time.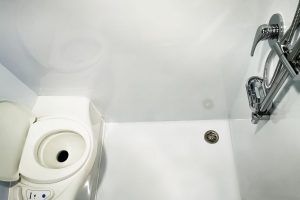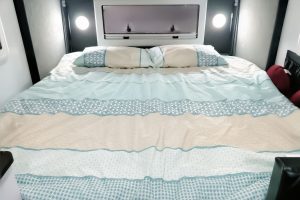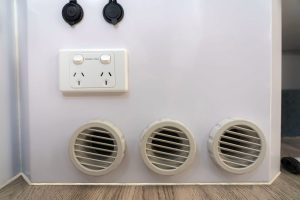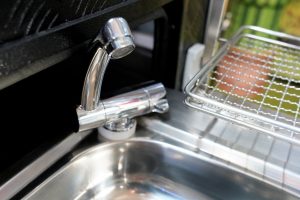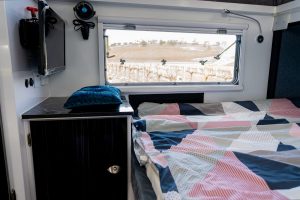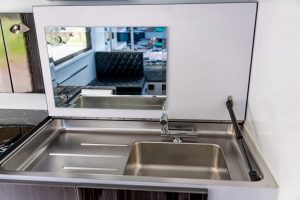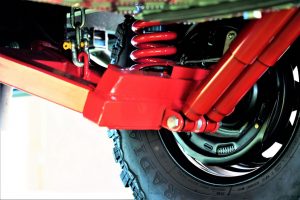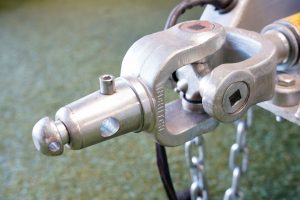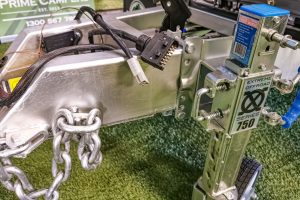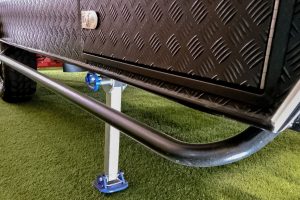 MT-15E Internal 360 Degree View
Hybrid Caravan Fold Out Bed Setup
Hybrid Caravan Fold Out Bed Packup
Fully Enclosed Annex Setup
FULLY ENCLOSED ANNEX SETUP DETAILS​
| Major Inclusions | Classic | Prime |
| --- | --- | --- |
| 3 x 100Ah AGM Battery | | |
| 300W Roof Solar System | | |
| Electric Awning with Manual Override | | |
| Enclosed Annex: Walls, Floor, Tensioning Bars & Poles | | |
| Internal & Outdoor Shower with mix tap | | |
| Thetford Cassette Toilet 20L | | |
| Off Road Independent Suspension | | |
| 2x100L Fresh Water Tanks (180L if A/C fitted) | | |
| 90L Grey Water Tank | | |
| 12V/240v Television | | |
| 2KW Pure Sine Wave Inverter | | |
| 30A AC-DC Battery Charger | | |
| LT 265/75/R16 Spare Wheel | | |
| McHitch 3500Kg Automatic Coupler Kit | | |
| Ark XO750 Jockey Wheel | | |
| Steel Rock Sliders - Body Protection | | |
| Instantaneous Hot Water & Plumbing | | |
| Floor Mount Reverse Cycle A/C (Heating & Cooling)* | | |
| 72L Premium Dual Zone Fridge/Freezer | | |
| 2.5KVA Inverter Petrol Generator | | |
| Choice of Electric & Gas Hot Water | | |
| Induction Cooker & Microwave | | |
| Memory Foam Topper | | |
| Premium Outdoor Caravan Cover | | |
| Diesel Heater* | | |
| Inner-Spring Mattress (Standard or Grand) | | |
Size & Weight
| | |
| --- | --- |
| TRAVEL SIZE | L6.3 x W2.3 x H2.5m |
| SETUP SIZE | L7.2 x W4.8 x H2.8m |
| TARE WEIGHT | From 2270kg |
| GTM (TARE+LOAD) | 2700-3000kg (Engineered & Rated @3000kg) |
| PLAYLOAD | Max 730kg |
| BALL WEIGHT | 200kg |
Body Construction
| | |
| --- | --- |
| DRAWBAR FRAME | Hot-Dip Galvanised Steel – One Piece 150 x 50 x 4mm |
| SUSPENSION | Independent Trailing Arm & Dual Shock bsorbers |
| BRAKES | 12" Electric Brakes with Break-Away System |
| BEARING & GREASE | Timken Bearing & Penrite Wheel Bearing Grease |
| RIM & TYRE | Light Truck 265/75/R16 on 6 Studs LC Steel Rim |
| BODY FRAME | Roll Cage Steel Frame Fully Welded & Galvanised |
| EXTERNAL WALL | 4mm Outer + 3mm Inner Aluminium Composite Panel(ACP) |
| WALL INSULATION | 25MM Rigid Expanded Polystyrene Foam |
| OUTER ROOF | Dome Shaped One Piece Fibreglass with trusses |
| CEILING | Fibreglass |
| FLOOR | Laminated Timber Floor & Composite Floor Board & Fibreglass |
| BODY WALL PROTECTION | 2.5mm Aluminium Chequer Plate |
| BODY PROTECTION | Front & Back 50mm x 4mm Steel Rock Sliders |
Bathroom
| | |
| --- | --- |
| TOILET | Thetford Cassette 20L – 400 series  |
| INTERNAL SHOWER | 2-Position Adjustable Shower Head |
| EXTERNAL SHOWER | Hot & Cold Water |
| VENTILATION | Two-way Fan Assisted Active Vent |
| LIGHTING | LED Dimmable Touch Light |
| BATHROOM VANITY | Outside of the Shower |
Storage
| | |
| --- | --- |
| FRIDGE SLIDE | L960 x W510 x H650 mm |
| Toolbox | 2x L600 x w310 x H400 mm |
| Internal | 2-7 x Cabinets* |
| External | 5x Lockable Compartment |
Kitchen
| | |
| --- | --- |
| COOKTOP | Stainless Steel 4 Burner Stove |
| SINK | 15L Stainless Steel Bowl |
| STORAGE | 2x Pantry with Cutlery Tray |
| LIGHT | LED Fixed Light & Flexible Light |
| BENCH | Stainless Steel with Slide Table |
| DISH RACK | YES |
Water System
| | |
| --- | --- |
| FRESH WATER | Stainless Steel Tank 200L (Prime -180L ) with Bash Plate Protection |
| GREY WATER | 90L Poly Tank with Bash Plate Protection |
| PUMP | 12V Seaflo Electric |
| FEED-IN POINT | 2x Tank Bypass Inlets ; 1x Water Filler |
| OUTLET | Mixer Taps- Kitchen, Showers & Vanity; 1x Ball Valve on Drawbar |
| WATER DROP POINT | 3x Drain Nuts & 3x Drain Ball Valves |
Power System
| | |
| --- | --- |
| BATTERY | 3x 100Ah AGM |
| CIG & USB | 8x Sockets & 6x USB |
| BMS | 30A Battery Charger & 2KW Inverter |
| 240V SYSTEM | 1x 15A Inlet, 9x Double Pole 10A Sockets |
| VEHICLE CONNECT | Fused 50A Anderson Plug |
| SOLAR SYSTEM | 1x 300W Roof Flexible Panel & Solar Controller |
| LIGHTING | LED Spot, Bar and Touch Lights |
| SAFETY PROTECTION | RCD & Resettable Fuses |
Entertainment
| | |
| --- | --- |
| TV | 12V/240v Smart TV on Swivel Arm |
| OUTDOOR TV MOUNT | Yes |
| STEREO SYSTEM | CD, Radio, Bluetooth |
| SPEAKER | 2x Internal; 2x Outdoor Marine Speakers |
| ANTENNA CONNECT | External & Internal Screw-on Socket |