13FT OFF ROAD HYBRID CARAVAN
"Perfect for Three of Us" "Easy to Tow, Plenty Space" "Solid Offroad Van! We Love It!"
Sleeps 3 on Super King & Single King Bed
Size: L5.6 x W2.2 x H2.3m
Water: 200L fresh & 90l gREY
300Ah BETTERy & 300W Solar
Electric Awning & fULL ANNEX
All the little things count
From the chassis to door handles, that's  where engineering meets day-to-day life experience. It works and works well anywhere, beach, mountain, bushland, forest, dessert, middle of nowhere to caravan parks, from sunrise to sunrise, every time.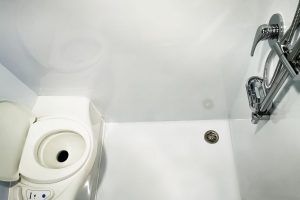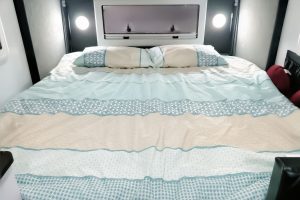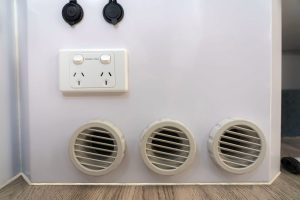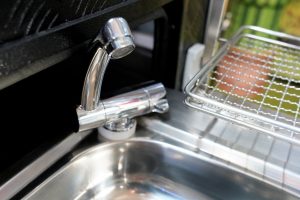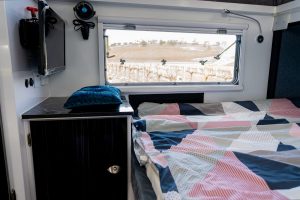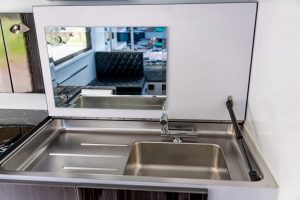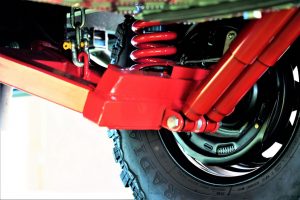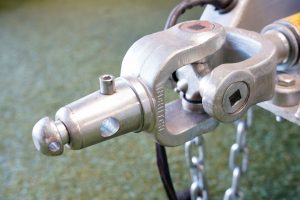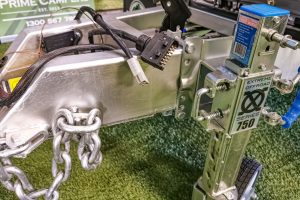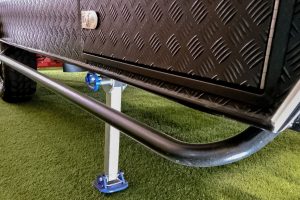 Mt13H Internal 360 Degree View
Hybrid Caravan Fold Out Bed Setup
Hybrid Caravan Fold Out Bed Packup
Fully Enclosed Annex Setup
FULLY ENCLOSED ANNEX SETUP DETAILS​
| Major Inclusions | Classic | Prime |
| --- | --- | --- |
| 3 x 100Ah AGM Battery | | |
| 300W Roof Solar System | | |
| Electric Awning with Manual Override | | |
| Enclosed Annex: Walls, Floor, Tensioning Bars & Poles | | |
| Internal & Outdoor Shower with mix tap | | |
| Thetford Cassette Toilet 20L | | |
| Off Road Independent Suspension | | |
| 2x100L Fresh Water Tanks (180L if A/C fitted) | | |
| 90L Grey Water Tank | | |
| 12V/240v Television | | |
| 2KW Pure Sine Wave Inverter | | |
| 30A AC-DC Battery Charger | | |
| LT 265/75/R16 Spare Wheel | | |
| McHitch 3500Kg Automatic Coupler Kit | | |
| Ark XO750 Jockey Wheel | | |
| Steel Rock Sliders - Body Protection | | |
| Instantaneous Hot Water & Plumbing | | |
| Floor Mount Reverse Cycle A/C (Heating & Cooling)* | | |
| 72L Premium Dual Zone Fridge/Freezer | | |
| 2.5KVA Inverter Petrol Generator | | |
| Choice of Electric & Gas Hot Water | | |
| Induction Cooker & Microwave | | |
| Memory Foam Topper | | |
| Premium Outdoor Caravan Cover | | |
| Diesel Heater* | | |
| Inner-Spring Mattress (Standard or Grand) | | |
Size & Weight
| | |
| --- | --- |
| TRAVEL SIZE | L5.6 x W2.2 x H2.3m |
| SETUP SIZE | L6.2 x W4.8 x H2.8m |
| TARE WEIGHT | From 1850kg |
| GTM (TARE+LOAD) | 2400-3000kg (Engineered & Rated @3000kg) |
| PLAYLOAD | Max 1150kg |
| BALL WEIGHT | 180kg |
Body Construction
| | |
| --- | --- |
| DRAWBAR FRAME | Hot-Dip Galvanised Steel – One Piece 150 x 50 x 4mm |
| SUSPENSION | Independent Trailing Arm & Dual Shock bsorbers |
| BRAKES | 12" Electric Brakes with Break-Away System |
| BEARING & GREASE | Timken Bearing & Penrite Wheel Bearing Grease |
| RIM & TYRE | Light Truck 265/75/R16 on 6 Studs LC Steel Rim |
| BODY FRAME | Roll Cage Steel Frame Fully Welded & Galvanised |
| EXTERNAL WALL | 4mm Outer + 3mm Inner Aluminium Composite Panel(ACP) |
| WALL INSULATION | 25MM Rigid Expanded Polystyrene Foam |
| OUTER ROOF | Dome Shaped One Piece Fibreglass with trusses |
| CEILING | Fibreglass |
| FLOOR | Laminated Timber Floor & Composite Floor Board & Fibreglass |
| BODY WALL PROTECTION | 2.5mm Aluminium Chequer Plate |
| BODY PROTECTION | Front & Back 50mm x 4mm Steel Rock Sliders |
Bathroom
| | |
| --- | --- |
| TOILET | Thetford Cassette 20L – 400 series  |
| INTERNAL SHOWER | 2-Position Adjustable Shower Head |
| EXTERNAL SHOWER | Hot & Cold Water |
| VENTILATION | Two-way Fan Assisted Active Vent |
| LIGHTING | LED Dimmable Touch Light |
| BATHROOM VANITY | Outside of the Shower |
Storage
| | |
| --- | --- |
| FRIDGE SLIDE | L960 x W510 x H650 mm |
| Toolbox | 2x L600 x w310 x H400 mm |
| Internal | 2-7 x Cabinets* |
| External | 5x Lockable Compartment |
Kitchen
| | |
| --- | --- |
| COOKTOP | Stainless Steel 4 Burner Stove |
| SINK | 15L Stainless Steel Bowl |
| STORAGE | 2x Pantry with Cutlery Tray |
| LIGHT | LED Fixed Light & Flexible Light |
| BENCH | Stainless Steel with Slide Table |
| DISH RACK | YES |
Water System
| | |
| --- | --- |
| FRESH WATER | Stainless Steel Tank 200L (Prime -180L ) with Bash Plate Protection |
| GREY WATER | 90L Poly Tank with Bash Plate Protection |
| PUMP | 12V Seaflo Electric |
| FEED-IN POINT | 2x Tank Bypass Inlets ; 1x Water Filler |
| OUTLET | Mixer Taps- Kitchen, Showers & Vanity; 1x Ball Valve on Drawbar |
| WATER DROP POINT | 3x Drain Nuts & 3x Drain Ball Valves |
Power System
| | |
| --- | --- |
| BATTERY | 3x 100Ah AGM |
| CIG & USB | 8x Sockets & 6x USB |
| BMS | 30A Battery Charger & 2KW Inverter |
| 240V SYSTEM | 1x 15A Inlet, 9x Double Pole 10A Sockets |
| VEHICLE CONNECT | Fused 50A Anderson Plug |
| SOLAR SYSTEM | 1x 300W Roof Flexible Panel & Solar Controller |
| LIGHTING | LED Spot, Bar and Touch Lights |
| SAFETY PROTECTION | RCD & Resettable Fuses |
Entertainment
| | |
| --- | --- |
| TV | 12V/240v Smart TV on Swivel Arm |
| OUTDOOR TV MOUNT | Yes |
| STEREO SYSTEM | CD, Radio, Bluetooth |
| SPEAKER | 2x Internal; 2x Outdoor Marine Speakers |
| ANTENNA CONNECT | External & Internal Screw-on Socket |